To check availability and book a room,
Update 29.5.21
Government regulations advise that we can re-open from 19.5.21.
We are reducing the number of rooms we let at any one time and have introduced a 24 hour gap between bookings so we would encourage you to be flexible on your choice of rooms.
If you wish to book mulitple rooms, we can accept this as it would only
be one group using the dining room for breakfast.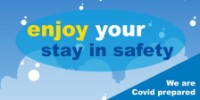 You will be redirected to our on line booking site.
Alternatively send us an email, smithanchor@aol.com.

For last minute bookings, check availability
and phone 01749 814930 or 07831738753